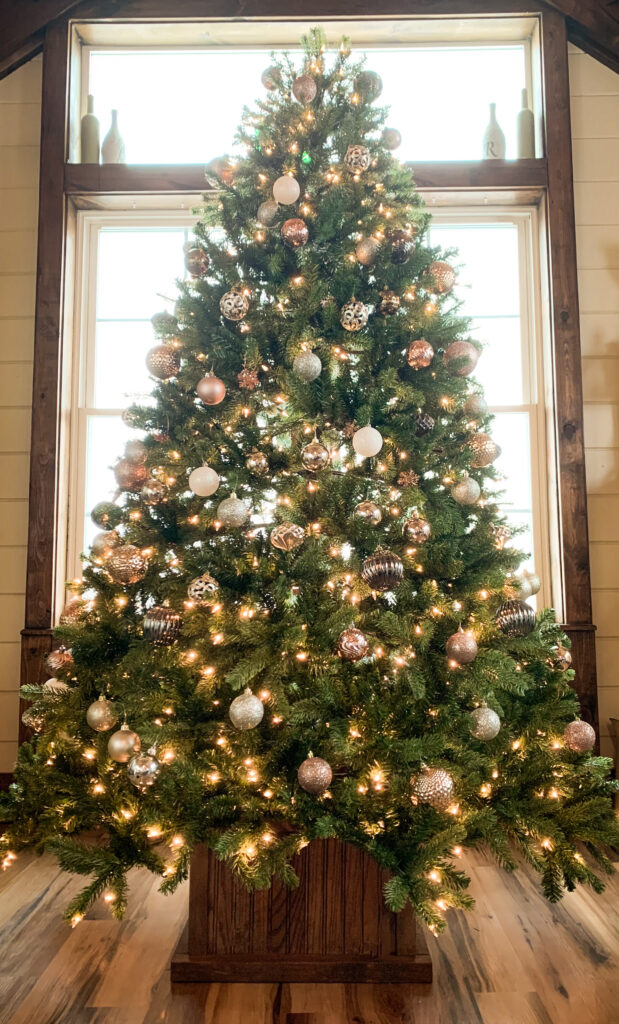 Every year it's the same story. We put up the Christmas tree, have a blast decorating it, and finally finish it off with the Christmas Tree skirt. Then I spend several times a day, every day, straightening out the skirt because my dogs LOVE to make it a bed. Literally, I think I spend most of the season doing this very thing!!! So, I decided this was the year to make a DIY Christmas Tree Collar. I've wanted one for years so I finally made one from wood that I had in my scrap wood pile. I am sooooo happy with how it turned out!
How to Begin This DIY Christmas Tree Collar
I started this DIY Christmas tree collar by cutting 2×2 wood into 8 pieces at 21″ long a piece.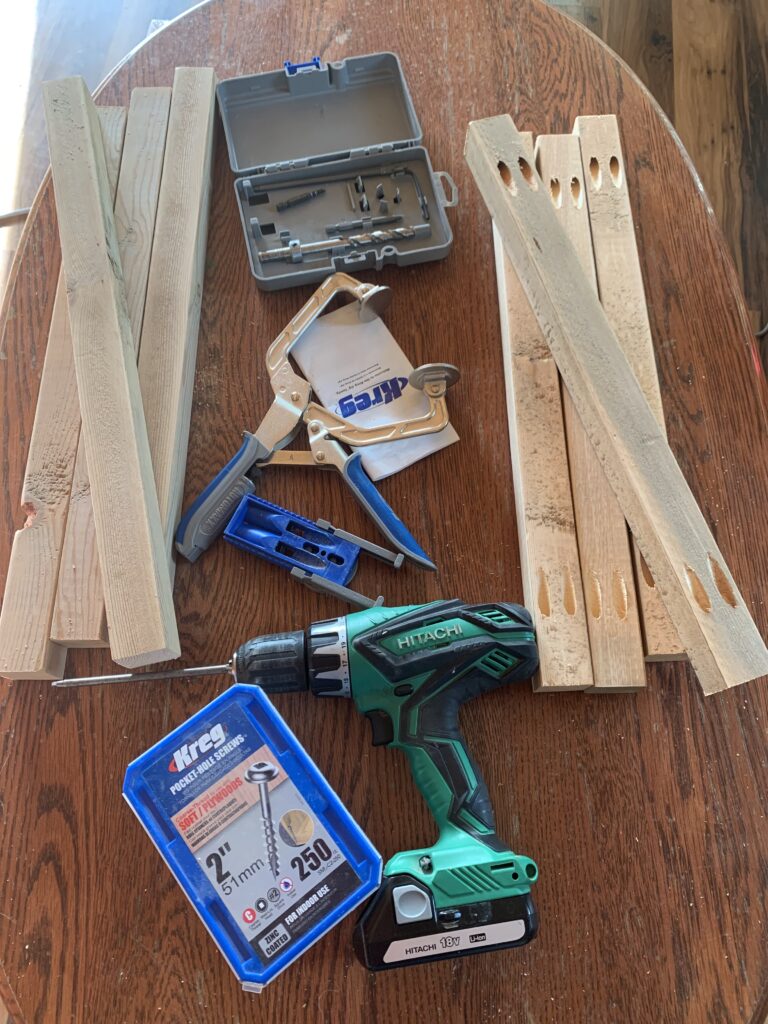 Then I used my Kreg tool and Hitachi drill to drill pocket holes into 4 of the 8 pieces.
Time to Make Some Frames For this DIY Christmas Tree Collar
I made 2 frames for the collar by screwing 2″ pocket screws into the pocket holes to attach the wood that had the holes to the wood that didn't have the pocket holes. I made 2 frame pieces using 4 pieces of wood for the top of the collar and 4 pieces of wood for the bottom of the collar.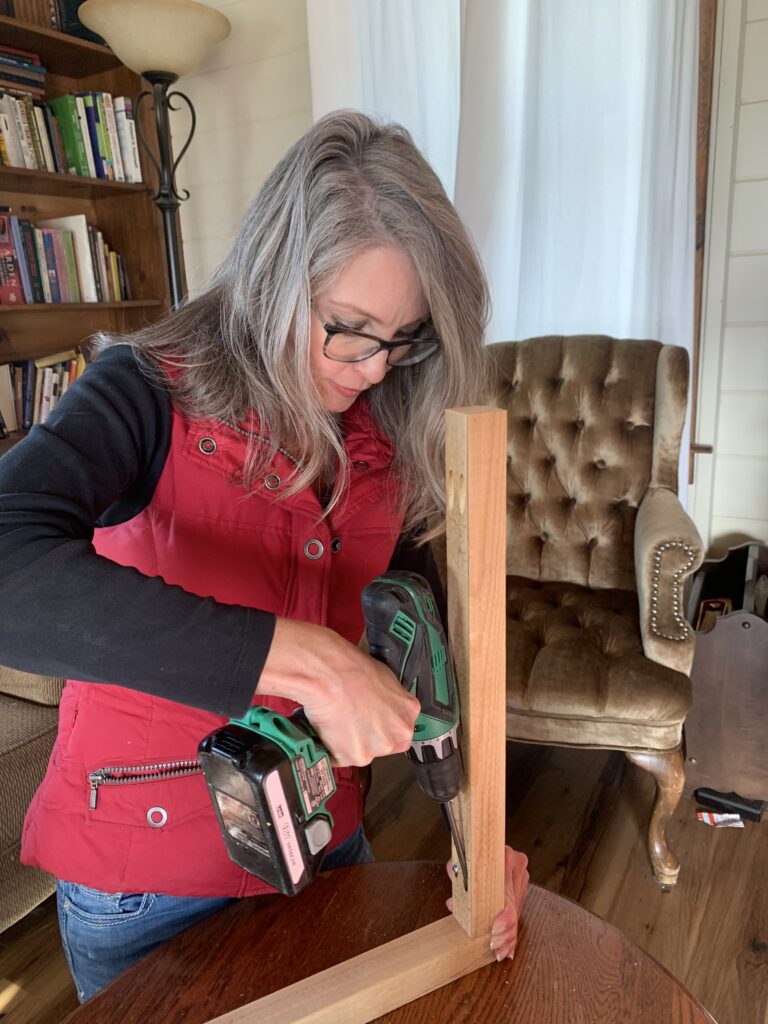 Let's Build Some Walls
I had some low profile tongue and groove wood in my scrap pile from a project I did over the summer. I cut that wood into 13″ pieces and finish nailed it to the bottom frame piece. After all the pieces were in, I put the top frame on and finish nailed the tongue and groove wood to the top frame.
Let's Add Some Corners
I had some corner pieces left over from a previous project so I put those on this collar. These corners were made with 2×2 wood pieces. I set my table saw so the blade was up 1.25″ and the guide was 1.25″ from the blade. Then I cut out the center of the 2×2 wood piece and Viola! I had corner pieces. I cut them to fit between the top and bottom frames and glued them into place with wood glue.
Time for Stain!
This is one of my favorite parts- the STAIN! I have my colors all custom mixed at Sherwin Williams so I don't have a name to share but it's probably close to Walnut if your purchased a color off the shelf.
It's Finished!
I could not be happier with how this DIY Christmas Tree collar turned out!!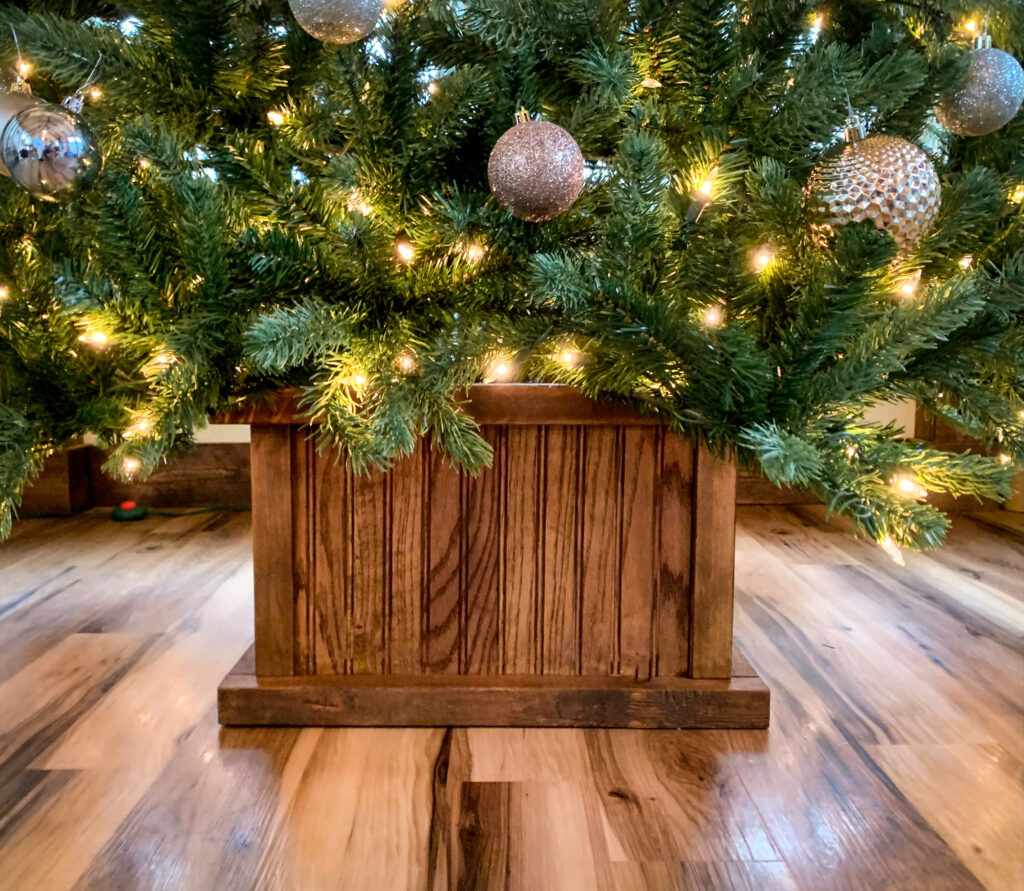 You can check out the video of this project here: https://www.youtube.com/watch?v=TrLvc-nmfF8
xoxo
Stephanie