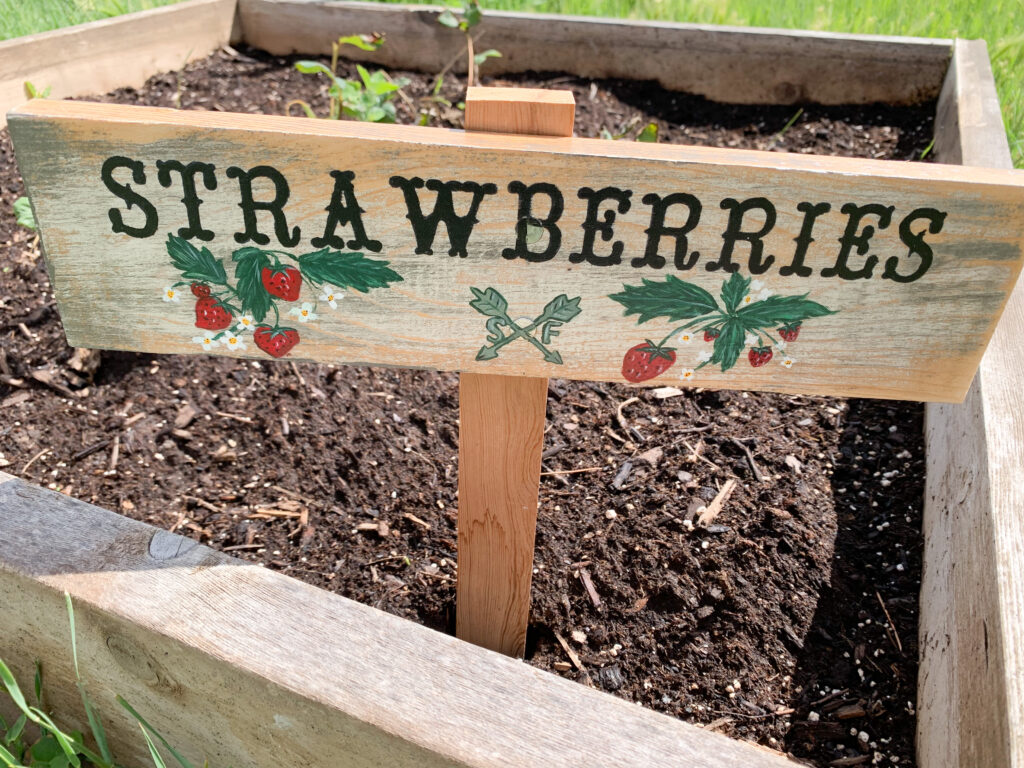 As an Amazon Affiliate I earn from qualifying purchases.
This post contains affiliate links, which means I make a small commission at no extra cost to you. See my full disclosure here.
These DIY farmhouse garden signs were so easy to make with some scrap wood, roofing nails, a Cricut machine, and some paint. They are so fun and such a beautiful addition to my garden! My 13 year old daughter jumped in and helped as well which made them extra special.
Let's get started on these Super Easy DIY Farmhouse Garden Signs!!
To begin, I found 1×4″ and 1×2″ scrap wood from my wood pile. I cut the 1×2″ into pieces with an angle on 1 end for the stakes. I then cut the 1×4″ wood into pieces for the signs and sanded them.
Now We Paint!!
I began painting with antique white paint over the front of the 1×4. I then sanded it to give it a warn look.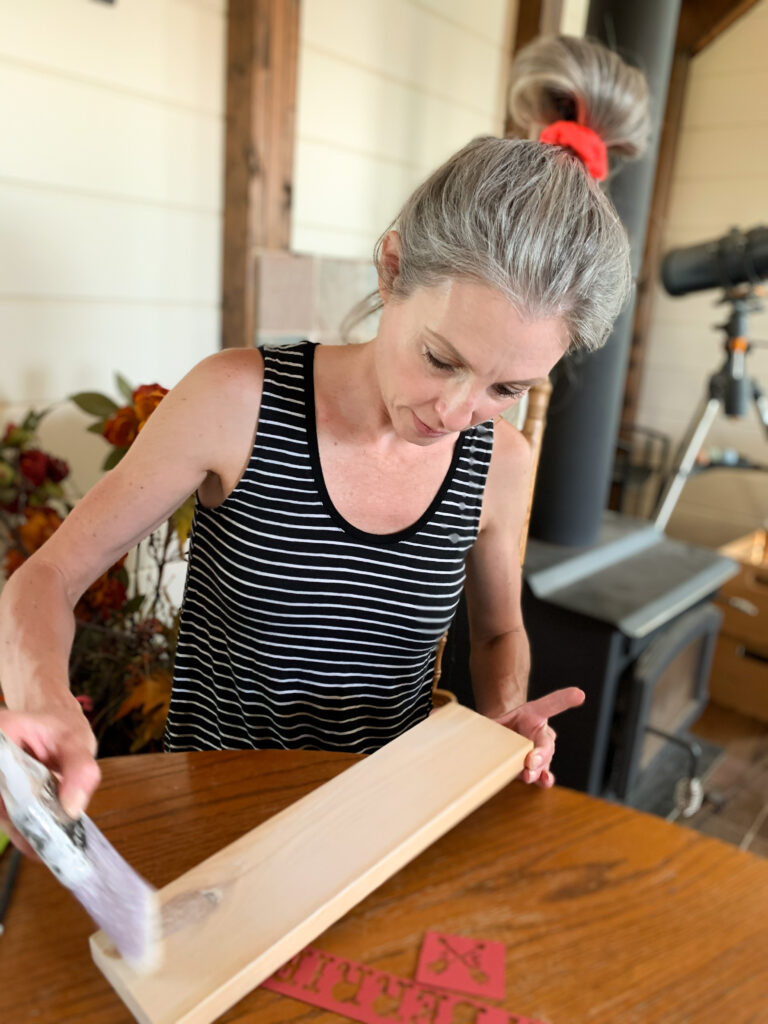 Then I added a layer of distressing with a dark gray paint and lightly sanded again.
You can check out my video on how to do this kind of distressing with paint here:
Grab your Hammer and Roofing Nails!
To make the signs I simply grabbed my hammer and 1 1/2″ roofing nails and attached the 1×4 to the 1×2 stake. I chose roofing nails because I like the big head on them. I think it adds a cool look to the signs.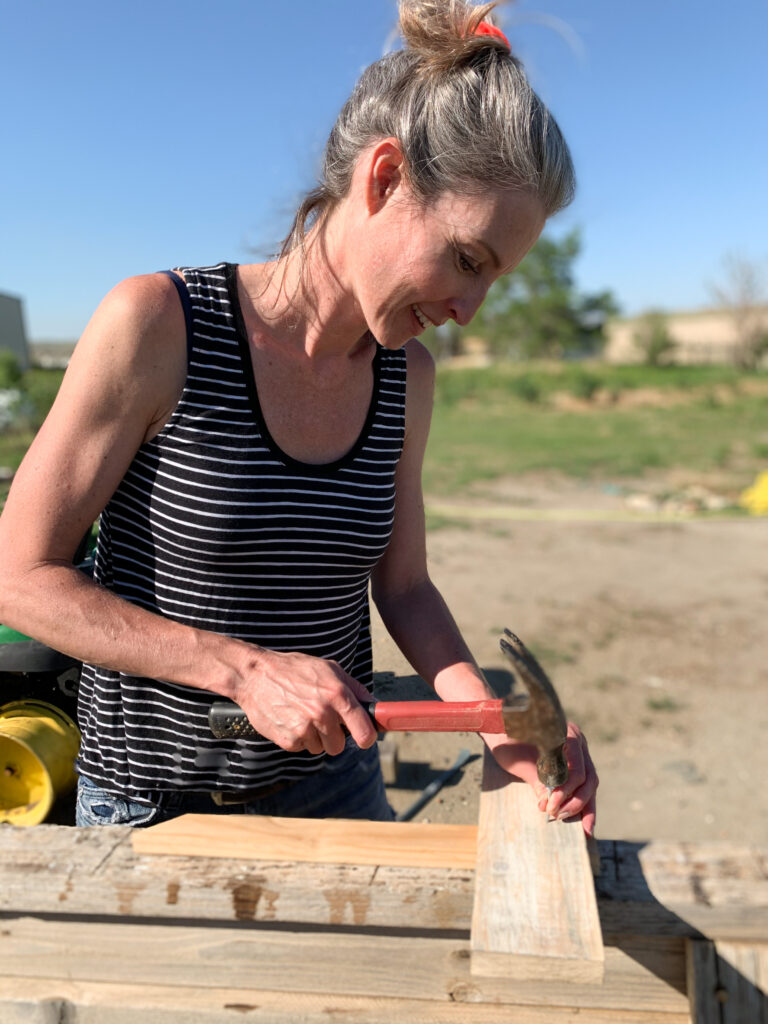 Let's Make a Stencil!
I used my Cricut Explore Air 2 to make a stencil using the "Country Life" font in Cricut Design Space.
I used a Sharpie to trace the stencil and then filled in the letters with black acrylic paint.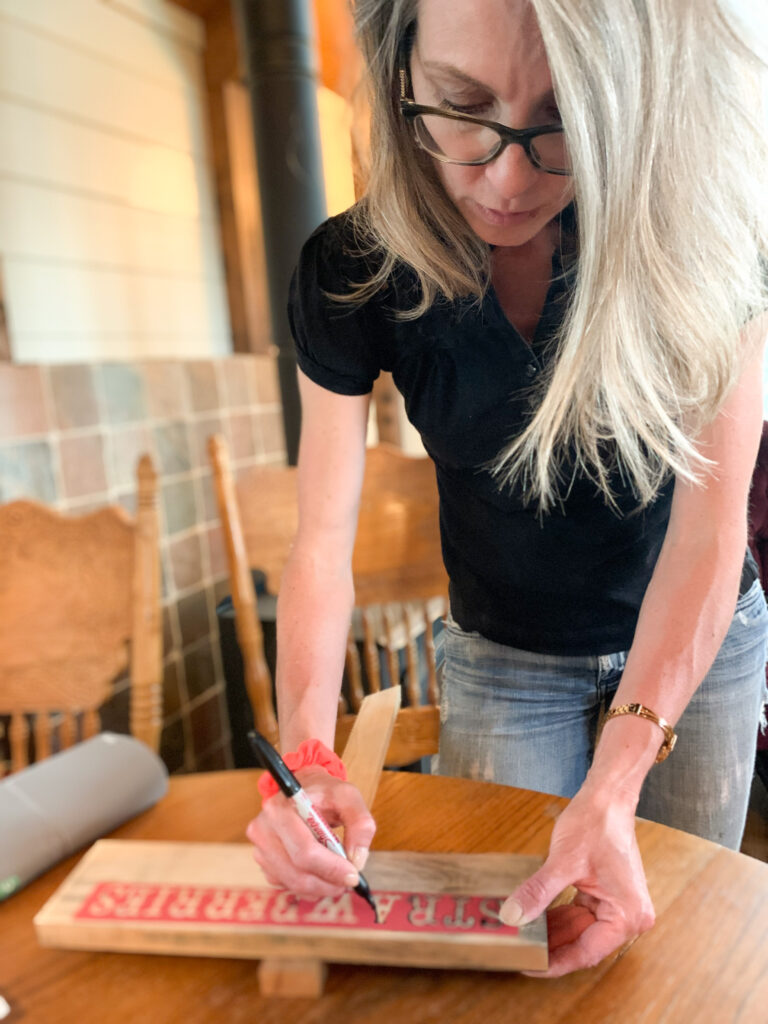 I did end up hand painting little images of the vegetables on the signs too, but I think they were super cute without them as well!!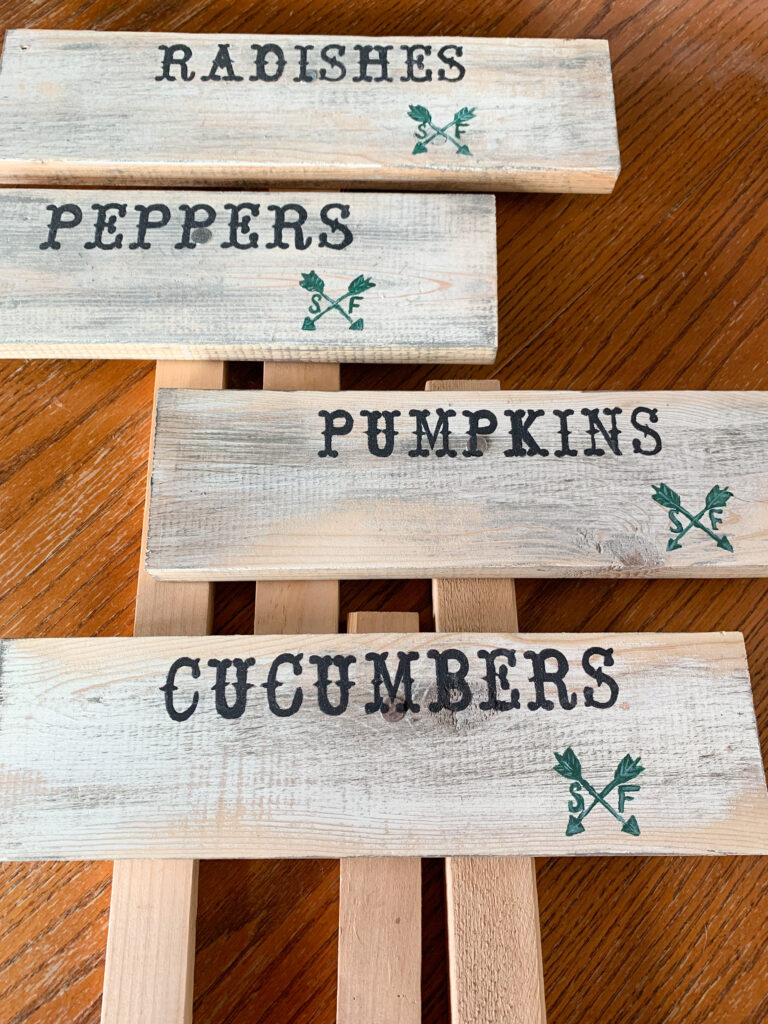 Hand Painted Images of the Vegetables!
I took it a step further and hand painted images of the fruit and vegetables because I had the time and my daughter wanted to jump in and help with that part, so of course I was going to say, "YES!!"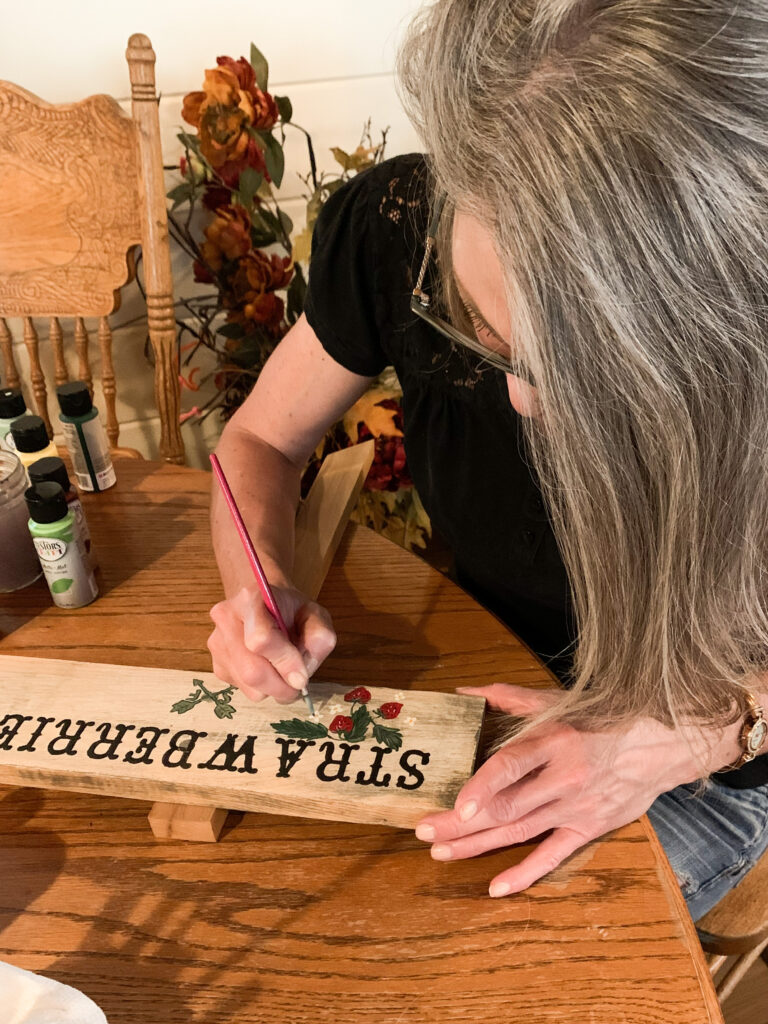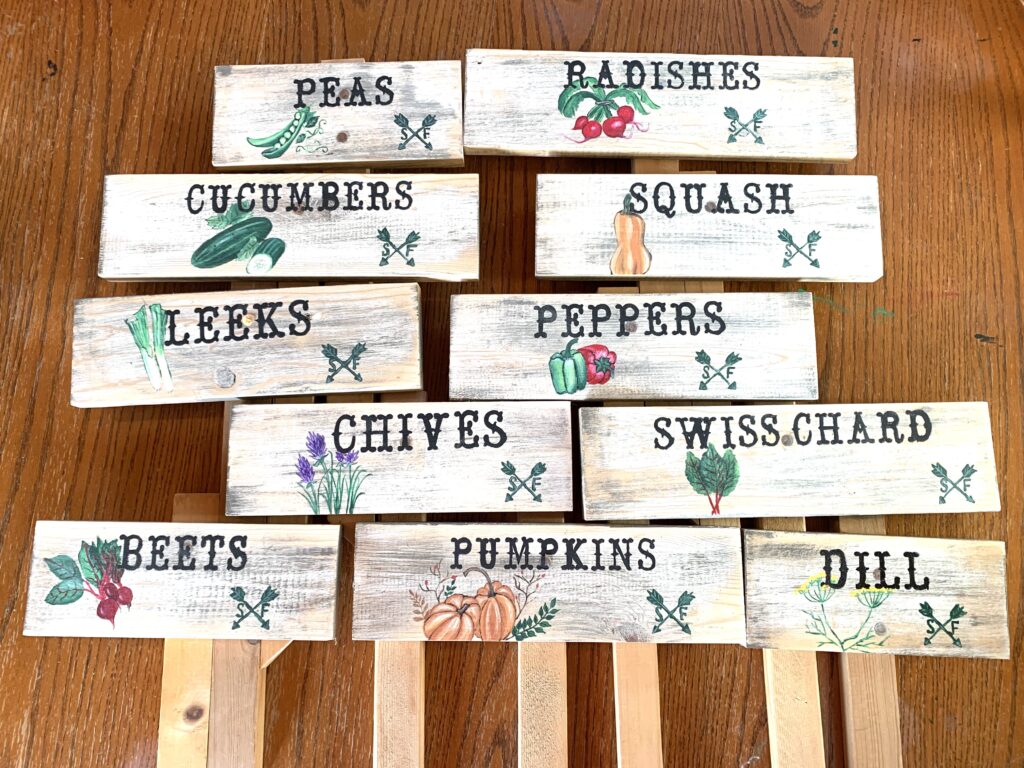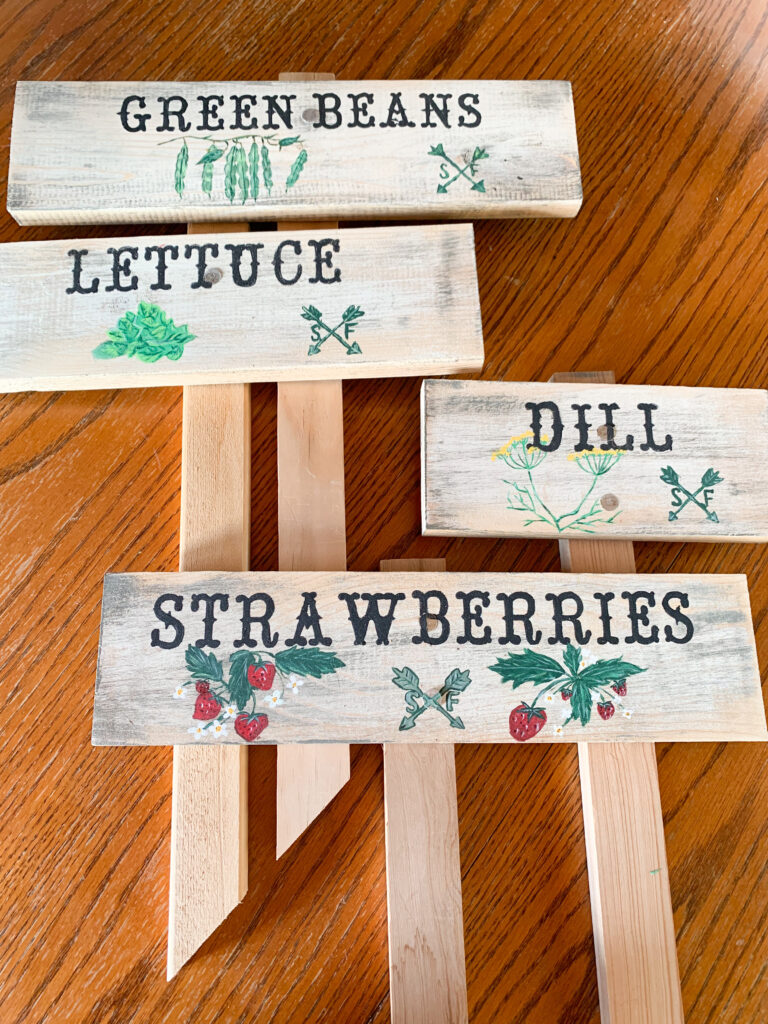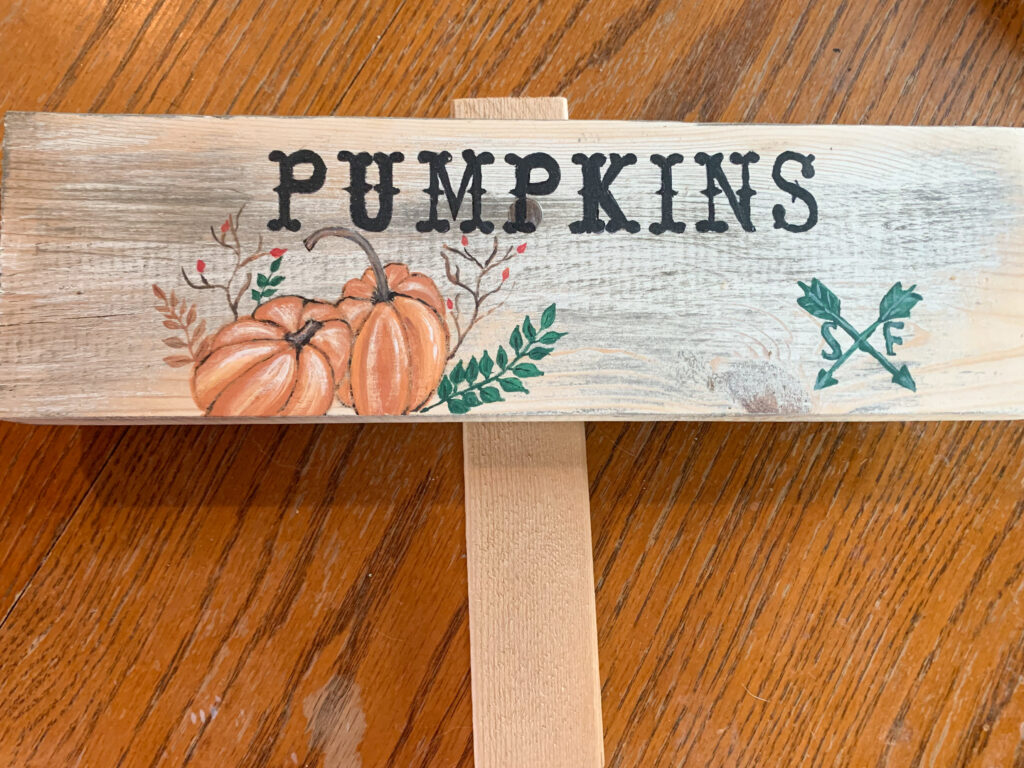 I finished the signs with a coat of Minwax Polycrylic in Clear Matte Finish. The product says for interior use but I have a table outside that I finished with it a few years ago and it's holding up nicely, so I thought I'd give it a try. If it looks like I need to use something else then I'll do that, but I really love this product and the look it gives, so I'm going with this first!
These DIY Farmhouse Garden Signs were so fun and a perfect to addition to my garden!!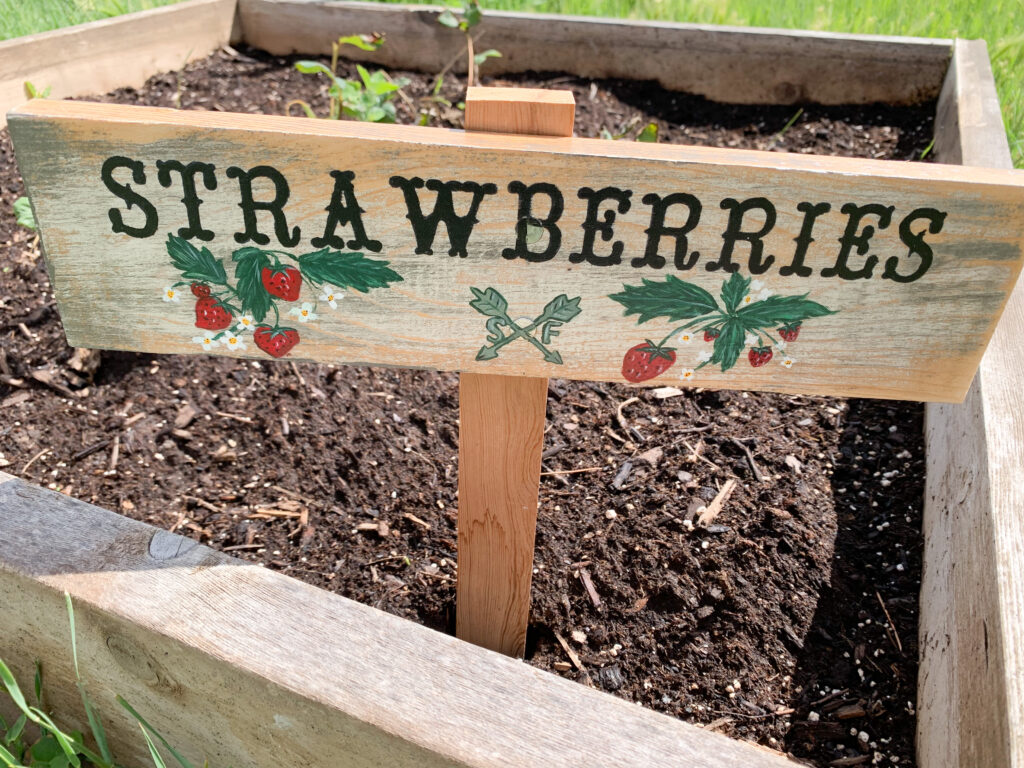 Shop This Post:
Cricut Explore Air 2: https://amzn.to/3AU8r6I
Testors Acrylic Paint: https://amzn.to/3yIRom6
Minwax Polycrylic:https://amzn.to/3hyUC6b